Active Context Awareness:
A Blueprint for Individualization of Instruction in a Digital Age

---
page 2

---
Awareness and Response


Active context awareness, and specifically the ability to adapt supports and experiences dependent upon student-specific context, may help provide us find a direction towards true individualization. This is not to say that true individualization comes in the form of a module that knows to say "this evening" instead of "this morning." That kind of trivial adjustment does little to influence the student experience, and would border on ridiculous.


Instead, in order to understand the best possible use of this conceptual framework in education, we need to consider how recognized context might influence the delivery of instruction. And one way that might happen is in the form of feedback.


Formative Feedback


It's no secret that feedback can be a particularly powerful support for helping to improve performance and expand independence. An integral part of all assessment (Angelo, 1995), it optimally functions like a one-way bridge between current and desired performance levels (Lizzio & Wilson, 2008). So not only is it a key component of any successful program, there are those who argue it to be the most important part of the entire educational process (Price et al, 2010, 277).


Unfortunately, high volume student growth in online institutions has resulted in a reduction in the volume and quality of supportive written feedback faculty can provide (Gibbs, 2006). Professors often feel overwhelmed by the volume of student work that needs to be responded to, or are forced to rely on external assistors whose feedback will not benefit from the same level of subject matter expertise that they can provide. So while feedback is most effective when it is sufficiently timed and directly actionable by students (Nicol, 2009, 337), it does not always achieve either of these aims in practice. And even when feedback is provided in a timely manner, there is no guarantee that students will access and read it in a similar fashion.


Research suggests that feedback alone is not always enough improve outcomes (Lew, Alwis, & Schmidt, 2010), and that students do not consistently make corrections based on its reception (Chanock, 2000). Both of these problems may stem from a common cause: students' inability to immediately implement the information they receive within feedback.


Here we find one place where we might utilize active context methodologies as a means to adapt instruction. By scheduling information-gathering events early in our designs, we can begin to make decisions about the nature and delivery of content that student's require. Experience can be scaffolded, and independence-nurturing instruction delivered in the form of feedback, such that content-level independence growth is supported and instructor feedback is freed to focus on higher-level, higher-independence support events.


Making it Work


The development of active context awareness learning modules requires careful consideration. We must be absolutely certain about said modules' intended experiential outcomes, and be prepared to design multiple paths to that end.


When a concept is first being introduced, the intention is generally to support the student in the development of those skills and awarenesses that are most likely to help them succeed during formative assessment (Hattie & Timperley, 2007). In a context-aware module, this may mean early comprehension checkpoints that very much behave in a diagnostic fashion. Instead of offering simple "correct/incorrect" responses, or even "why this is correct/incorrect" evaluation sets, they may lead students to one of any number of minutely adjusted variations of the review components or continued instruction. The emphasis is now placed on the correction of misconceptions and the refinement of understandings, rather than on basic presentation and assessment.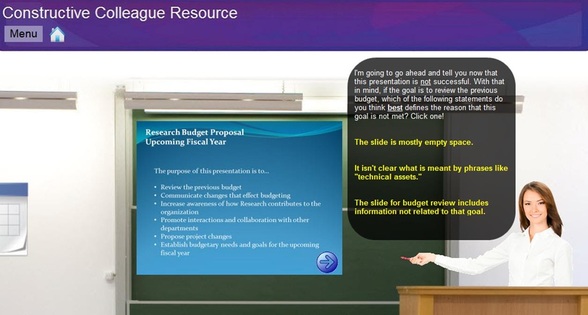 Figure: Example screenshot of an active context review module


Context-influenced learning objects adjust the complexity and depth at which students engage the content, dependent upon their observed behaviors. This means that responses won't be limited to reading content-level feedback regarding an incorrect response. A struggling student might have the chance to explore the concept further via additional original review materials, reengage it using temporarily simpler or stripped down content, or to simply get invited to reevaluate their answer and identify why they believe it was incorrect. A learning object is completed when students have worked their way up to instructor-identified exit points, effectively connecting their ability sets to stated outcomes.


The design of these scenarios can range from highly complex to a collection of simple binary response events. In simplest terms, modules trend towards the behaviors highlighted in the flow chart below, although content tends not to repeat verbatim except where appropriate. Essentially, while success (or the lack thereof) may sometimes return a user to a higher level in the program's decision tree, original material is used rather than repetition of previously examined items.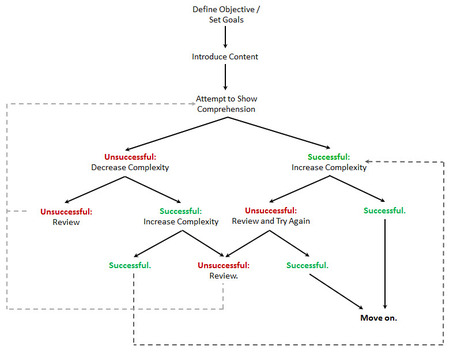 Figure: Basic user context-guided decision tree