Active Context Awareness:
A Blueprint for Individualization of Instruction in a Digital Age

---
page 3

---
The driving question behind the development of these early scaffolded supports is "If a student doesn't initially understand this concept or its application, what is most likely driving that lack of understanding?" Indicators may be found in the form of past student responses to formative assessments, student survey or discussion board opportunities, subject matter expert insights, instructional analysis, or even the use of acquired analytics. Typically, multiple potential concerns will be identified, which can then be incorporated into a single active context awareness event. Early interaction points can then be designed with diagnostic intentions, using behavioral trends to determine which common "stumbling points" a student's behaviors best correlate with. Once trends have been identified, subsequent efforts will focus on supporting comprehension relative to those specific concerns.


It is important to note that, if we are adjusting our content supports in order to assist struggling learners, then the reverse must also be true. Puntambekar and Hübscher (2005) note that modern scaffolding typically lacks an emphasis on contiguous diagnosis, with the intentions of fading scaffolded supports. Active context awareness-inspired objects can accomplish this, and in doing so be just as beneficial to students who are successful as those who are struggling, in that they allow for the opportunity to increase complexity, revoke supports, or promote onward where appropriate.


The importance of mapping out the flow of content in such learning objects prior to development quickly becomes apparent. Not only does such a map help focus and clarify the goals of such an artifact, but it also reveals them to be less overwhelmingly development-heavy than they may initially appear. Often, they can be developed as little more than a series of "If-then" statements or translated into hyperlink click events, which is something even most presentation software is capable of providing (see below).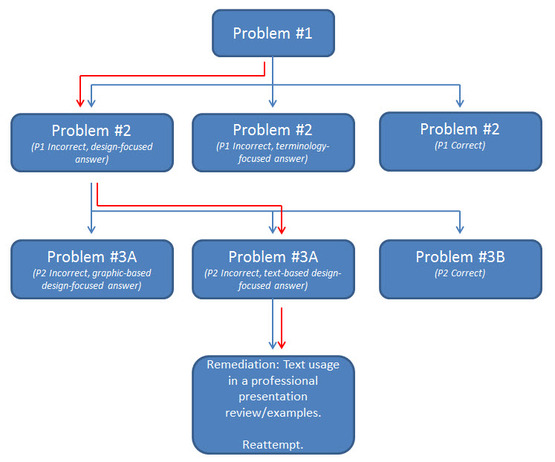 Figure: Example student experience path through early diagnostic sections of the module shown earlier in this document


Future Implications
Experience indicates that utilizing basic scaffolding instructional supports which coincide with formative feedback opportunities has the double benefit of supporting student learning and freeing instructors up to invest more time and energy on rich, deep-content synchronous communication. The potential for the online student to reach end-course summative assessments without having had the chance to correct misconceptions is drastically reduced, as is the overall impression that student learning is being supported rather than assumed (Hyland, 2000).
Moreover, the potential for student data collection relative to the content is improved. For example, an institution using html-publishing e-learning software could potentially identify specific points within a learning object in which to place an analytics tracking code. This would then allow them to both evaluate degrees of student comprehension and to ascertain where (and why) key misunderstandings might be occurring.
A stark contrast exists between the potential impact of formative feedback and its current actual achieved successes (Winter et al, 2004). What should be our greatest tool is, often as not, poorly utilized and poorly understood. The use of active context awareness-inspired designs, which provide feedback as well as adjust experience and support based on information about student success, may be a pivotal shift in alleviating that frustration.
References:
Angelo T. A. (1995). Reassessing (and defining) assessment.
AAHE Bulletin,
48(3), 7
Chanock, K. (2000). Comments on essays: Do students understand what tutors write?
Teaching in Higher Education
, 5(1), 95-105. doi: 10.1080/13562510 0114984. Accessible through Taylor and Francis at
http://www.tandfonline.com/doi/abs/10.1080/135625100114984#.Ux8hGIWolbI
Chen, G., & Kotz, D. (2000) A Survey of Context-Aware Mobile Computing Research,
Dartmouth Computer Science Technical Report TR2000-381
, 1-16. Available online at
http://mmlab.snu.ac.kr/courses/2005_advanced_internet/handout/ppt/36%20-%20context_aware.pdf
Gibbs, G. 2006. How assessment frames student learning.
Innovative assessment in higher education
, ed. C. Bryan and K. Clegg, 23-36. London: Routledge. Available at
http://books.google.com/books?hl=en&lr=&id=7HgeCT_Q0xQC&oi=fnd&pg=PA23&dq=Gibbs,+G.+2006.+How+assessment+frames+student+learning.+Innovative+assessment+in+higher+education&ots=BkoYbQ_2Lf&sig=kOYfJ2ZYzL2Gg4_QdWIGsg9c70k#v=onepage&q&f=false
Hattie J., Timperley H. (2007). The power of feedback.
Review of Educational Research,
77, 81–112. doi:10.3102/003465430298487. Available at
http://rer.sagepub.com/content/77/1/81.short
Hyland, P. (2000). Learning from feedback in assessment.
The practice of university history teaching
(pp. 233-247), Eds. P. Hyland & A. Booth. Manchester: Manchester University Press. Lew, Alwis, & Schmidt, 2010
Lizzio A., Wilson K. (2008). Feedback on assessment: students' perceptions of quality and effectiveness.
Assessment and Evaluation in Higher Education,
33, 263–275. doi:10.1080/0260293070129254. Available at
http://www.tandfonline.com/doi/abs/10.1080/02602930701292548#.Ux8iJ4WolbI
Nicol D. (2009). Assessment for learner self-regulation: Enhancing achievement in the first year using learning technologies.
Assessment and Evaluation in Higher Education,
34, 335–352. doi:10.1080/02602930802255139. Available at
http://www.tandfonline.com/doi/abs/10.1080/02602930802255139#.Ux8iPYWolbI
Price M., Handley K., Millar J., O'Donovan B. (2010). Feedback: All that effort but what is the effect?
Assessment and Evaluation in Higher Education,
35, 277–289. doi:10.1080/02602930903541007. Available at
http://www.tandfonline.com/doi/abs/10.1080/02602930903541007#.Ux8iWIWolbI
Puntambekar, S., & Hübscher, R. (2005). Tools for scaffolding students in a complex learning environment: What have we gained and what have we missed?
Educational Psychologist
, 40(11), 1–12. Available at
http://www.tandfonline.com/doi/abs/10.1207/s15326985ep4001_1#.Ux8ijYWolbI
Schilit, B.N., Adams, N. and Want, R. (1994). Context-Aware Computing Applications.
Proceedings of IEEE Workshop on Mobile Computing Systems and Applications
, Santa Cruz, December 1994. IEEE Computer Society Press, 85-90.
Winter, C. and Dye, V.L. (2004) "An Investigation into the Reasons Why Students Do Not Collect Marked Assignments and the Accompanying Feedback", CELT Learning and Teaching Projects 2003/04. [Online],
http://hdl.handle.net/2436/3780