Active Context Awareness:
Individualizing Instruction in a Digital Age

---
Cory McMillen looks at a software behavior that hasn't yet impacted the education world, and sees great potential in the way that it functions.

---
Active Context Awareness: An Introduction


The on-screen map tells you to take a left at the upcoming intersection. The children fighting in the back seat prove just distracting enough to cause you to miss the turn, however, and you curse in frustration. Before your string of bad language has even ended the map has automatically adjusted, finding you a new best route based on your current location.


Sometime during the unending hours between take-off and landing…you're not sure exactly when…your cell phone realized that it was changing into a new time zone and adjusted the displayed time accordingly. When you tap to check the weather before leaving the terminal, it automatically brings up your current location.


Once the attachment is firmly in place around your arm, the app on your mobile device immediately begins reporting data. Later, it will adjust its exercise and dietary recommendations based on what it discovers.


Each of these events is an example of active context awareness, which is defined as the automatic adaptation of a program or application to its discovered context (Chen and Kotz, 2000). Software is considered active context-aware if it shifts its behaviors in response to the conditions under which it is functioning, usually with the express purpose of personalizing the user's experience.


The source of the adjusting context can be broad, too. It can be computing-based (including connectivity, accessibility of printers or cameras, or other resources), user-based (influenced by user profile information, location, or similar variables), or even come from ambient and situational contexts such as lighting, time, and temperature (Schilit, 1994). Several contexts can be combined to make more nuanced decisions.


The question this article poses (and I admit that it may not answer it, but I'm not sure that that's the point) is: what does this kind of automated personalization mean for a world where education is increasingly powered by the technological?


A Framework for Solutions


To the extent that education programs expect to nurture increased competence, they should also assume that students will attain greater levels of independence as the program progresses. That is to say, they will be more capable of applying and evaluating the information in question at completion than they were at the start.


This expansion of skill and knowledge sets means that early content exposure events will presumably involve lower student independence, and greater potential for misconception or misunderstanding, than do later ones. As a result, they will subsequently require very different types of support or learning opportunities.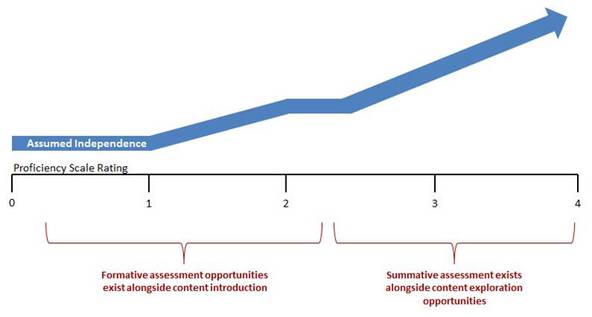 Figure: Student content independence relative to desired competence and program progression


The trick in all of this is that not every student will climb the ladder at the same pace. In addition to that, some will invariably come in on the first day with core understandings that others lack. The larger the group, the greater the disparity of needs…and the less likely it becomes that a group solution will solve individual needs.

In the 20th century classroom, individualization of instruction was hardly the norm. It could be argued that, in many cases, it bordered on impossible. Today we are far more capable of providing this service, but rarely do more than pay it lip service. Our individualization comes in the form of adjusted expectations, or of adjustments to the delivery method (such as closed captioning). What we are not doing, and absolutely should be, is developing individualization methodologies that focus on getting every unique learner from their low independence point to the highest possible peak.