So We Heard You're Getting Married...
---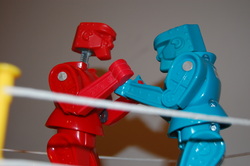 Once upon a time, Kara Boyer and I were chosen to pilot co-teaching for our building. We were promised plenty of time to plan (didn't happen), full support from the office (wrong), and opportunities to provide feedback and to help prepare materials for the other people in the building who would be following after us (didn't happen).
Really, we were tossed into the deep end with the expectation that we would tell everybody else it was a fantastic experience...or else. Nothing else was provided or offered.
They did give us one thing, though: marriage counseling.
Really.
From day one, we had managed to throw a big wrench into the whole operation: we simply could not get along. The response from on high was to sit us down and have us watch a video by some marriage counseling guru. You know, some gesturing guy in a too-nice suit talking about men's brains and women's brains and all that stuff. Everyone thought it was just hilarious. Well, everyone
else
.
Needless to say, by the time we got around to publishing articles and creating websites we'd learned to get along...but before that we'd had learned to co-teach without injuring one another, and often it was by doing things a little differently. A few of the strategies we came up with along the way seemed to us like they were worth sharing.
So whether you love your co-teacher or hate their guts, we hope that you'll find some value in our
perpendicular
and
competitive
co-teaching techniques, as well as the other materials on this site.