Flush, Chapter 10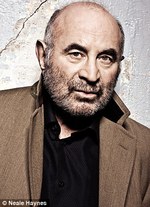 Luno, the man Dusty Muleman hired to protect the Coral Queen, is described as a "big bald guy with a Z-shaped nose."
---
Before You Read

Remember, our goal for this quarter is "Using small pieces of the puzzle to put together the big picture."

A lot of the time, this means using a few simple facts to understand an otherwise confusing passage. Let's look at one example

At the top of page 107, after Jasper Jr. punches him several times, Noah says "I remember thinking of something clever to say, but all I could do was squeak like a leaking balloon."