The PowerPoint that took a hundred years...
Well, not quite.

We ARE going to be making a PowerPoint that shows our understanding of the different reasons that authors write. And it WILL be taking us a good long while to do.

However, the reason it will take so long is that we are going to start it now, and edit/change/add to it as we go.


Go ahead and open a new PowerPoint presentation on your computer. Remember, you do that by going to Start, Programs, Microsoft Office, and then clicking on PowerPoint.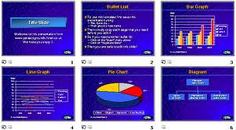 For now, your PowerPoint is just a place to put your ideas. It doesn't have to have any structure or make any sense to anybody but you, yet. You're just using it as a place to store pictures, words, and ideas. Eventually, you'll be organizing it so that it teaches other people about PIE. For now, just add as many ideas, images, and examples as you can think of, in any design that you want.

Think of your presentation as a folder that you are putting all your sketches and ideas in, so that you can take them out later and use them!

Also....here are some unusual PowerPoint templates you can use if you want to:
You can find a lot more of them if you click
here
.